"WCW Lives"
Version: 1.1
Start Date: May 2001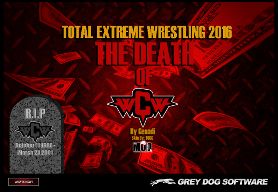 ~ Hype Video ~
https://www.youtube.com/watch?v=9se6byr ... WgOK4og6wA
*** TDWCW & WCWLives Version 1.1 Change List ***
* Changed Don Callis Mic Skill (68 to 79)
* Deleted Rain (Duplicate)
* Deleted Hulk Hogan Starting Absence (In WCWLives)
* Fixed WWF European Title Lineage
* Fixed Rose Garden Location
* Fixed Booker T's Starting Injury
* Fixed Several Typos
* Other ninja like tweaks
Important Notes & Stuff
* To reflect the WCW/Time Warner contract situation a handful of workers have been set to Starting Absences in the editor.
If you'd like to remove them before the game starts to hire any of them earlier the list is as follows....

Alex Wright (60 Weeks), Bam Bam Bigelow (52 Weeks), Bill Goldberg (60 Weeks), Hulk Hogan (24 Weeks), Jeff Jarrett (20 Weeks),
Kevin Nash (40 Weeks), Lex Luger (72 Weeks), Rey Misterio Jr (24 Weeks), Ric Flair (24 Weeks), Rick Steiner (24 Weeks),
Road Warrior Animal (20 Weeks), Scott Steiner (24 Weeks), Sting (40 Weeks),


* MCW was one of the WWF's development territories at the time but to make things sim better in the long run HWA has replaced a few months early.
Any workers on development deals working in MCW at the time have been signed to HWA or OVW on the same type of contracts. A handful of workers who were working for
MCW under WWF development had their contracts cut for balance purposes. The list is as follows for those who'd like to add them prior to starting a game.

WWF - Aguila, Freddie Blassiem, Kevin Kelly, Terri Powers ( aka Tori),
WWF Development - Joey Abs, Pete Gas, Rodney, Bryan Danielson (Current ECWA Tag Team Champion)

* The following workers were assigned to OVW or HWA to balanace the main rotster... Shawn Stasiak, Mark Jindrak


* Goldberg is the only WCW worker starting absent due to his Time/Warner contract, after a lengthy discussion we decided not only would it be the most likely scenario but also add an extra challenge to booking WCW.



Data 1.1



mSp 2.0
http://www.mediafire.com/file/c0yc1xik3 ... Sp_2.0.zip
Enjoy